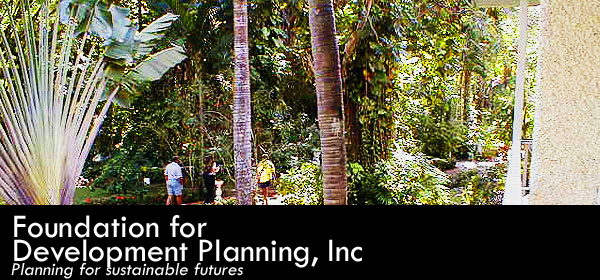 The Foundation for Development Planning, Inc. (FDPI) was registered in the United States Virgin Islands in October 2010 as a non-profit corporation. The FDPI is classified as a public charity by the U.S. Internal Revenue Service, and is granted exemption from Federal income tax under Section 501(c)(3) of the Internal Revenue Code.
The Mission of the Foundation is to "engage with relevant stakeholders to foster sustainable development in the Caribbean, integrating social, economic, and environmental dimensions."
The Foundation carries out sustainable development planning, research, and programs focused on Caribbean communities.  In addition to the development of appropriate tools and processes, the Foundation has the capacity to provide advice and technical assistance to organizations, communities, and governments throughout the independent and non-independent countries and territories of the Wider Caribbean Region.  The Foundation collaborates with organizations in the public, private, and civil society sectors, adding value to, and enhancing outcomes in, a range of local and regional initiatives.
Donations to the Foundation for Development Planning, Inc are tax deductible to the extent allowed by law.  Tax ID Number: 66-0763692