The Foundation for Development Planning, Inc (FDPI) collaborates with organizations in the public, private, and civil society sectors to establish and support collective impact processes needed to produce large-scale social changes. The FDPI's Program of Work directly supports Caribbean development priorities, and is consistent with the 2030 Agenda for Sustainable Development.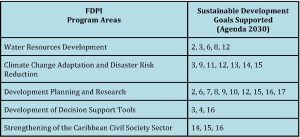 The alignment of the FDPI's work with the 2030 Agenda is underscored by the fact of the FDPI being granted Special Consultative Status with the United Nations Economic and Social Council in July 2021. View the FDPI's ECOSOC profile.
The value of donating to the FDPI is that your financial contributions will enhance outcomes from, and impact of, Caribbean development initiatives at the local, national, and regional levels.
The FDPI is certified by the U.S. Internal Revenue Service as a 501(c)(3) public charity. As such, donations by U.S. institutions and citizens are tax deductible to the extent allowed by law.  Tax ID Number: 66-0763692. Include a completed Donation Form in order to receive a receipt for your donation.
Donations should be sent to:
Foundation for Development Planning, Inc.
P.O. Box 303387
St. Thomas, VI 00803
United States of America